Easter is today. While this Sunday holiday is mostly about feasting on Easter eggs, chocolate bunnies, and marshmallow Peeps, you can give your Easter celebration a culinary twist this year with one of these three adorable treats!


DEVILED COLORED EGGS
Offer everyone something to nibble on between the Easter egg hunt and the big feast with this colorful palette of deviled Easter Eggs. I like mine with a little pepper mixed in.
INGREDIENTS
– 10 hard boiled eggs
– 1/2 cup mayonnaise
– food coloring
STEP-BY-STEP INSTRUCTIONS
Bring water over the stove to a boil with your eggs in the pot. Turn down the heat to low, cover and simmer for 15 minutes.
After 15 minutes, cool the eggs with running cold water.
Peel the eggs, cut them in half, and place the yolks in a separate bowl.
Make the colors just as you would to dye Easter eggs and dip the whites, letting them dry on a paper towel.
Meanwhile, mash the yolks and add mayonnaise along with any other add-ins like bacon, pepper, or chives.
Fill the emptied egg white halves with your yolk mixture and decorate.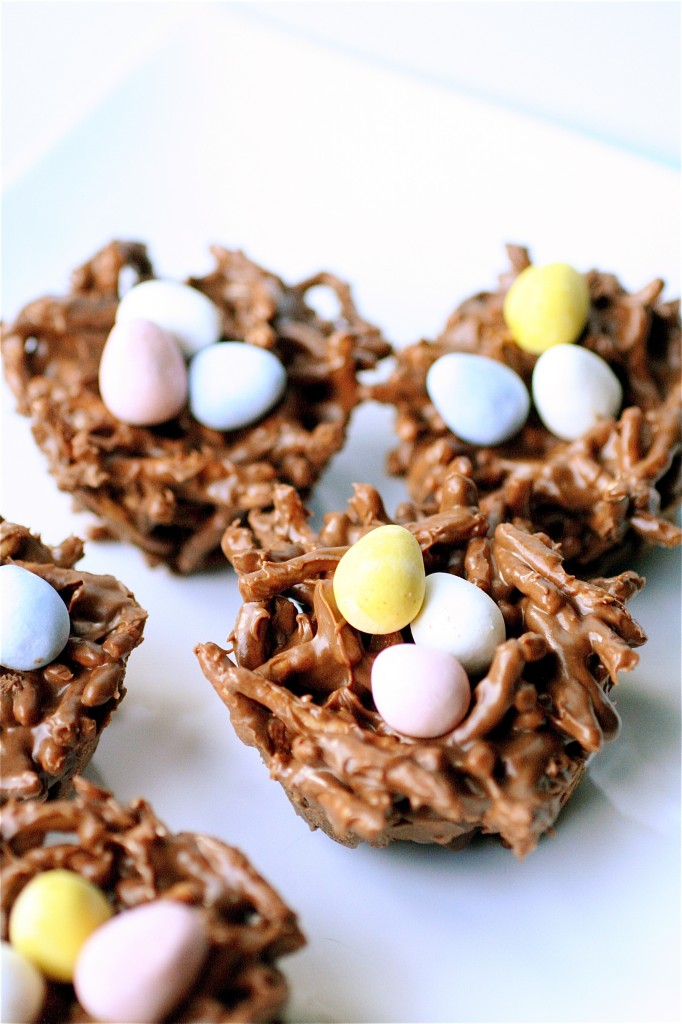 CHOCOLATE  BIRDS' NESTS
Birds' Nests are a sweet and salty treat, perfect for Easter afternoon. Use any kind of malted milk egg candies or jelly beans as the "eggs" in this delectable chocolate nest!Ingredients
– 1 tblsp of unsalted butter
– 6 oz (1/2 bag) of semi-sweet chocolate chips
– 6 oz (1/2 bag) of butterscotch chips
– 1 cup creamy peanut butter
– 6 oz (1/2 of a large bag) of chow mein noodles
– 36 mini Cadbury eggsInstructions
Grease the wells of a muffin pan with butter.
In a large microwave-proof bowl, heat the chocolate and butterscotch chips in 30 second intervals until thoroughly melted.
Once melted, add the peanut butter to the chocolate/butterscotch mixture, mixing well until smooth and completely combined.
Carefully add the chow mein noodles, stirring with a wooden spoon or rubber spatula, until completely coated.
Using a large spoon, mold the mixture into the wells of your muffin tin, indenting the tops slightly with the back of the spoon.
Chill the nests until hardened, about 1 hour or so.
Once chilled, gently remove the nests from the muffin tin.
Place three eggs (or colored jelly beans!) on the tops of each nest.
PEEP S'MORES
When all those leftover Peeps marshmallows threaten to take over the kitchen, turn to this cute recipe for Peeps S'mores. Fire up the grill if it's warm enough or just pop them into the microwave!
INGREDIENTS
– peeps
– Hershey's chocolate squares
– graham crackers
STEP-BY-STEP INSTRUCTIONS
Place graham crackers, chocolate and a peep atop each other. Zap in the microwave until soft.
Top with another graham cracker square.