When it comes to creating an online platform, the one thing we all want is to have a large following base and have them all be very interactive. When you post a picture or share a story, seeing people engage with it is a great feeling. Sometimes reaching out and following people and getting them to follow you back is difficult.
Here is the scoop on the 10 best apps to grow your Instagram.
When first thinking about this, it might not strike your attention. But the Instagram app itself is a great way to interact with people and gain new followers. You can do this by joining interactive groups, as well as following people that you know will follow you back. Instagram engagement comes along a lot with how you interact with your followers and other people you follow. By commenting and liking people's pictures, they are more likely to reciprocate it when you post something. Stay on top of posting and aim to post five times a week if you're looking for a large engagement. When someone searches you on Instagram, the eye attracts an aesthetic page. Try to come up with a cohesive filter or set up to make your Instagram layout very appealing to the eye.
Using other social media apps that you may have created a platform already on is a great way to build your Instagram. For instance, Facebook is a great way to gain that engagement. On Facebook, you can share your Instagram post, with a link that will take the user straight to your Instagram page. If you are looking for more engagement involving likes and following, there are several Facebook groups that you can look up and join based upon your platform to help you build this. Connecting with people is huge, if you can find someone with a large following base to help promote your page, you are more likely to fulfill your engagement goals.
This is a platform that you can use whether you are trying to promote a brand or you are an influencer. An account assistant will be assigned to you. This assistant will almost take over your page and help increase your engagement. They will look at the traffic in sales on your page and determine the best way to get people to engage with you. After you define your demographics, they will put you in a certain place where your consumers will best be targeted and grow your account. Account growth will be seen by reports of your analytics that can be sent to you weekly.
Telegram
Telegram is an app that you can find on your phone in the App Store. It is very simple to use, and there are several groups that you can join. The Telegram app is for engagement groups. Once joining a group, you will receive the number of likes that you give out. You will go through and like all posts from the people in your group that have posted in the last 24 hours. After doing so you will be able to publish your post in the group. You receive two posts every 24 hours, these posts will receive the engagement that you provide to the other people. All of the people that you liked, will reciprocate the likes back to you. I would highly suggest this if you are looking for a way to increase likes over followers.
Sprout Social
When first looking to grow your platform, we all want likes and followers. But one thing that can be very beneficial to this growth is knowing the insights and data that follows along with your engagement. Sprout Social is a management tool for businesses to use. This tool helps to schedule posts, manage comments, monitor hashtags, and run reports. They offer a free trial so you are able to see if you like it. And you are able to not only use this tool on Instagram but also on other platforms such as Facebook, Twitter, LinkedIn, and Pinterest.
Wordswag
Looking to grow your engagement? It is very important to have a page that is appealing to your followers. A consumer should look at the page and be drawn in by the aesthetic. Whether you are looking to post on your page or on your story Wordswag offers a great opportunity to add text to your photos in just a few seconds. This is available for iOS and Android in the app stores. This app is applicable to Instagram, Twitter, and Facebook.
Preview
After taking all of your photos, it may be hard to figure out how to lay them all out to make your aesthetic cohesive. Preview is an app that provides you the Instagram grid and allows you to move photos around within the grid to find where they place best. This will help when it comes to scheduling for posting. You will already know what your Instagram page will look like when that photo is posted. This will help increase your aesthetic and engagement from your followers after they see an attractive page.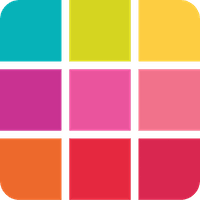 VSCO
Breaking down ways to grow your Instagram, one thing to focus on is the design feature. There are several apps out there to help create filters and alter the coloring of a photo. A very easy, but beneficial app is VSCO. This app allows you to apply filters and adjust coloring on your photos. You have the ability to post on your VSCO page as well if you find that you would like to create another platform.
Lightroom
Another design app that I would highly suggest is Lightroom. On Lightroom, you're able to either create your own filters, play with the coloring, or purchase filter packages from online websites when searching on Google "Lightroom filters". There will be a number of filters that can be found, this will help create an aesthetic. You have the ability to change your aesthetic, but also buy a package of presets that allows you to have several options to choose from depending on the photo you would like to post.
PS Express
PS Express is a personal favorite editing app of mine. On this app, you are able to make quick, powerful, and easy photo edits and create collages. PS Express is designed by Adobe. It is a perfect app to have if you are looking to create a high-quality photo editing option. This is great for photographers, and people wanting to have a crisp layout. The app offers ways to edit coloring, filters, and to share your photos. PS Express can be downloaded on your mobile device for easy editing.
Overall there are several Instagram growth tactics. To narrow it down you should post consistently on your page and on your stories. Figure out what quality hashtags could be used for your consumers. Collaborate on several of the apps mentioned above and engage with your following. Do not forget to look at your analytics, this will help you to determine where are you are standing with your improvements. All of the apps above are great ways to grow your Instagram.
---
We hope these tips help you grow you instagram! Please join us on IG @sarahscoop!