Before you get into all the candy, treat yourself to one of these tasty desserts! These scrumptious sweets are easy to make and are sure to boost your Halloween spirits before the holiday rolls around!
Mexican Pumpkin Bread Pudding Graves
To make this simple treat, collect a few ingredients to create syrup, pumpkin bread pudding, and churros. Pour the syrup on the finished bread pudding, and then roll the churros in cinnamon sugar and place them in their "graves". Drizzle the white chocolate in a way so that the churros are transformed into miniature mummies, and add candy eyes to complete your masterpiece. These spooky treats are festive and delicious! Full Recipe.
Spicy Chocolate Pots de Creme
These yummy cups are a perfect treat for a chilly day. Combine milk, cream, sugar and yolks in a saucepan and melt the other ingredients into the mixture. Allow the concoction to cool overnight, and serve with bloody butterscotch sauce. This gory treats are perfect for anyone with a sweet tooth! Full Recipe.
Rice Krispie Treat Pumpkins
These festive treats are perfect to make with kids on a cool fall afternoon! Collect the six simple ingredients to whip up these adorable mini pumpkins. Make normal rice krispie treats, but add food coloring to the concoction before you pour the cereal in. These easy treats are a cute and quick way to get ready for fall! Full Recipe.
Mummy Oreo Pops
To make these mysterious mummies, you just have to coat the end of a lollipop stick in white chocolate and stick it between the cream and cookie of an oreo. Next, dip the entire pop in white chocolate and decorate to your heart's desire. If you're in need of a quick treat for a Halloween party, this recipe will come in handy! These cute treats are perfect for whatever October festivities you may be celebrating. Full Recipe.
Marshmallow Ghost Cupcakes
If you have some time on your hands and love to bake, you will go crazy for this fun recipe! These eerie cupcakes are a perfect combination of rich chocolate cake and fluffy marshmallow frosting. Don't worry – the recipe uses cake mix, so you won't have to make everything from scratch! Make sure to try this recipe out before Halloween comes, you won't regret it! Full Recipe.
Dark Chocolate Halloween Chip Cookies
These dark chocolate cookies are just what you've been waiting for! This combination of peanut butter, white chocolate, and rich dark chocolate creates a symphony of flavor in your mouth. Not only do these cookies taste amazing, but they are so festive with a Halloween color scheme! If you're looking for a fun and easy treat, these cookies are perfect for this fall season! Full Recipe.
Halloween Swirl Cream Cheese Brownies
Everyone will be in awe when you show up to a Halloween party with these delicious masterpieces! Start by baking a batch of dark chocolate brownies, then top the batter with a cheesecake layer. Use a skewer to intricately twist the layers into each other. These brownies have a spiderweb feel, perfect for this spooky time of year! Full Recipe.
Ghost Pretzels
For those of us looking for a fun fall activity with the family, this recipe makes life so much easier! Grab some pretzels, white chocolate, and decorations to transform the ingredients into ghosts! These cute treats are a perfect snack all fall. Feel free to put your own twist on the recipe to create all kinds of monsters! Full Recipe.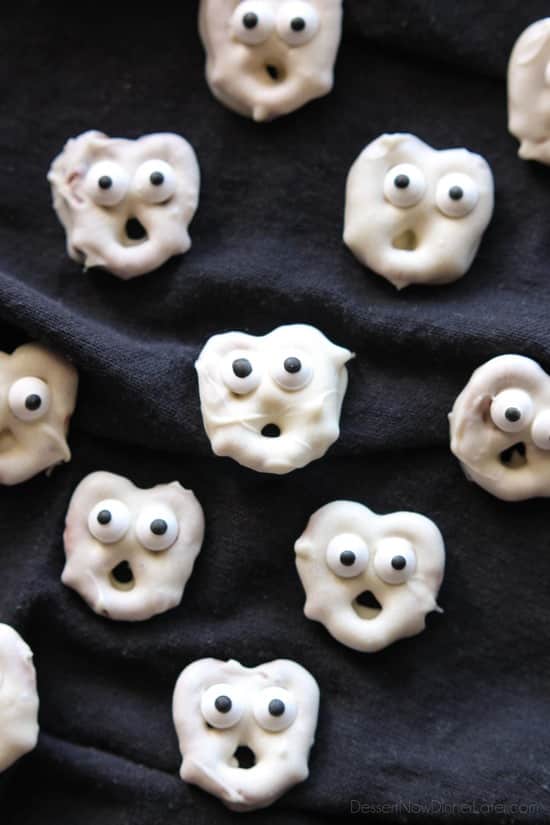 Spooky Boo Brownies
These cute treats are simple to make, but look exquisite! Place a marshmallow on top of a brownie and douse it in white frosting to create an adorable ghost! Kids and adults alike will fall in love with these tasty desserts. Whether you're looking for something to take to a party, or just looking to get into the Halloween spirit, these brownies are perfect for any occasion. Full Recipe.
Candy Corn Cupcakes
For all the candy corn fans out there, here is a recipe that was made for you! These cupcakes look exactly like the classic Halloween treat we all know and love. This recipe takes cake mix and makes it rich and moist. Try making these colorful treats for a fun surprise! Full Recipe.
Gooey Monster Cookies
Have you ever made cookies from boxed cake mix? After you try this recipe, you won't have it any other way! These delicious cream cheese cookies are a fun and colorful way to get ready for Halloween. Although the monsters aren't all that scary, you'll be so engrossed in the flavors that you won't mind! Full Recipe.
Spider Web Chocolate Cupcakes
These elegant cupcakes are perfect for a more sophisticated event. This recipe uses a chocolate banana cake recipe, which creates a more moist and dense cake, but feel free to use your favorite chocolate cake recipe if you desire. Although these cupcakes look intricate, creating the spiderweb design couldn't be more simple! You won't want to miss out on creating these tasty treats! Full Recipe.
Eyeball Cookies
These gory cookies look so realistic, they'll have you doing a double-take! Create a fun eyeball illusion using frosting, red gel, and chocolate chips. This recipe provides a delicious cream cheese frosting recipe, but if you're short on time, feel free to buy pre-made frosting. If you're looking for a recipe that will scare your guests, this is the one for you! Full Recipe.
Zombie Cookies
These cookies put a creepy twist on classic gingerbread cookies. You'll wonder what happened to these tragic cookies! Go ahead and personalize each cookie, each with its own scars and blemishes. These fun treats will not only get you ready for Halloween, but will get you ready for baking real gingerbread men in a few months! Full Recipe.
Poison Apples
Have you ever wondered how the Evil Queen in Snow White made her famous poison apples? Now you have the chance to make them yourself! Dip fresh apples into a concoction of corn syrup, sugar, and food coloring. These iridescent apples are gorgeous treats for this fall. Full Recipe.
---
We hope this sparked the Halloween spirit in you! Try these tasty recipes and snack all night as you watch a scary movie or before you hit a haunted house!