Gift-giving is always tough because you really wonder whether the person will actually use the product. I've compiled a solid gift guide that any guy will surely find useful!
Cool 2000 Gaming Headset
The Cool 2000 Gaming Headset works with PC/PS4/Xbox One/Nintendo Switch. The large cups fit over the ears to drown out background noise and the headpiece adjusts to fit any size. There is an attached 360-degree microphone that can be used for any of those guys games that we have no clue about! The microphone can easily be switched on and off with the touch of a button.
Designed with your comfort in mind, the headset has plenty of cushion to withstand hours of gaming. The headband is super flexible and can be twisted any way you want, but built to last for years. It also comes with different cords to convert for use on the iPhone 7 or iPhone 8 without the headphone jack.
The Cool 2000 Gaming Headset costs $28.59 and there is a $4.99 charge for shipping. If you decide to purchase something else and bring your total to over $35, the shipping fee is waived! Check out their game controllers, game mouses, and game keyboards. These are manufactured in China, so allow 10-30 days to receive your headphones.
SnackCrate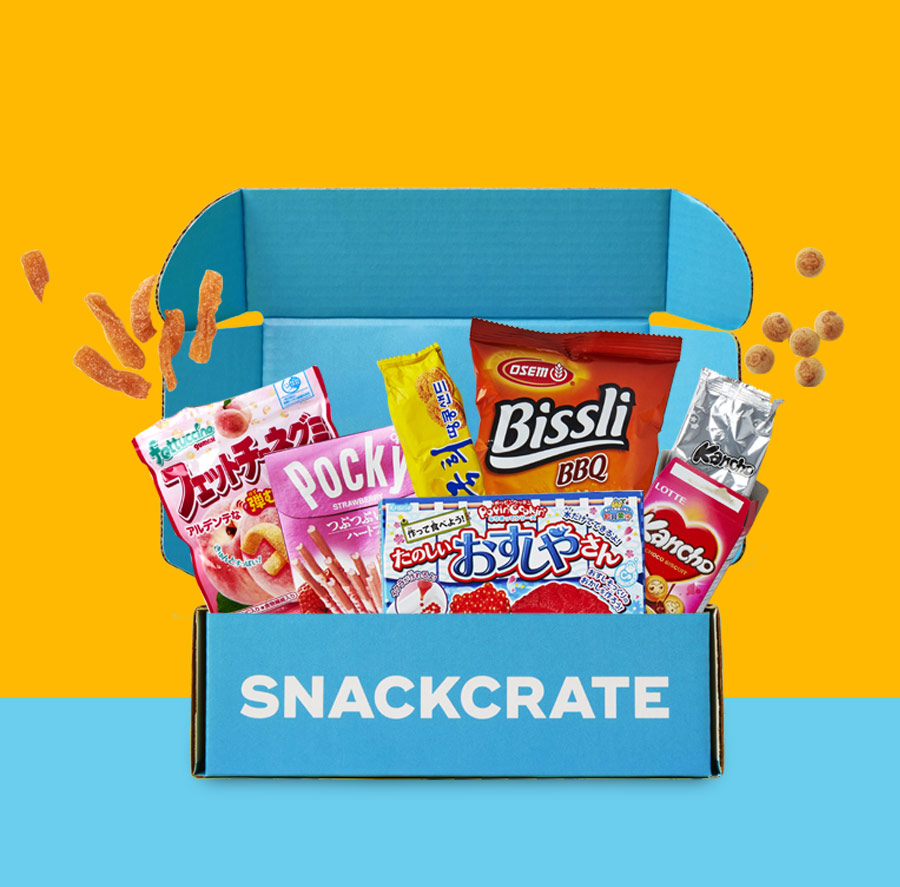 Men are a bottomless pit, so what better gift idea than a subscription snack box to give them something to look forward to? The SnackCrate is a monthly box sent to your door, filled with food from around the globe. The idea behind this is to give you a taste of places you may never have a chance to visit. Each month, a country is featured. There are three sizes to choose from.
The "mini" size contains five snacks, which is great for people who are new to the foreign food scene. This costs $14 per month.
The "original" size contains all the contents of the mini size and several more for a total of 10-12 snacks — perfect for sharing. This costs $26 per month.
The "premium" size contains all the above plus more, so you get 18-20 delicious snacks. This is a great choice for those with a big appetite and an adventurous palate! This costs $49 per month.
Giving SnackCrate as a gift is so easy. Select one of the three sizes, choose how many months you would like to gift, and pay for it. Then, you'll need to decide how you want your gift delivered. The confirmation will be e-mailed to you, and you can either forward it to the recipient or print it out to give to them. The best part about the gifting option is that there is no expiration date. They can claim their gift anytime by visiting snackcrate.com/gift
SnackCrate also has a unique promotion going on right now. For a limited time, all new Snack Crate subscriptions will be automatically entered into the SnackCrate Adventure Ticket Sweepstakes. Customers who find the ticket in their Snack Crate will win a trip for them and one friend to that month's featured country. The contest runs through the end of the year, with one winner chosen per month. Be sure to take advantage of this sweet offer!
---

Root Out Root Beer Flavored Whisky
Root Out Root Beer Flavored Whisky is a blend of the finest root beer flavoring with a smooth Canadian blended whisky that is aged for four years in American Oak barrels from bourbon generating a rich, root beer flavor with a hint of vanilla. Prepare it to your liking by drinking it neat, on the rocks, or customized in a cocktail. A bottle of Root Out Root Beer Flavored Whisky is priced at $25.99. It is available at high end restaurants, bars, stores and online.
---
PackLite Supercharger
For the outdoorsy adventure-type, this gift will be used for many years to come. The PackLite Supercharger is a portable solar lantern and phone charger that packs down to 1" thick and weighs just half a pound. It can recharge on solar power in 16 hours or can be plugged into a USB port to charge in 2-4 hours. This device is completely waterproof and includes five brightness settings to adjust to your liking. The installed battery charges your phone, a true lifesaver for the days spent camping.
The PackLite costs $69.99 and can be purchased on the Luminaid website with free shipping. If you're not convinced yet, check out all of the five-star reviews the PackLite has received!
---
Half the stress of the holiday season is just finding gifts that suit the person. Now you are all set for the holiday season, without all the stress and questioning the usefulness of the gift!