Disclosure: This shop has been compensated by Collective Bias, Inc. and its advertiser. All opinions are mine alone. #ProtectFromPetMess #SeasonalSolutions #CollectiveBias
Halloween is just around the corner and it's the perfect time to put on your best costume, satisfy your sweet tooth, or bring out your spookiest decorations. It's one of my favorite times of the year, but it can be a little stressful for my cat, Maxwell.
Believe it or not, Halloween is a very stressful holiday for our sweet fur babies. With so much going on, they can have a hard time adjusting to the eventful day. After trial and error, I have determined what works best for Maxwell so he stays safe and relaxed. Check out these tips to keeping your pets safe during Halloween!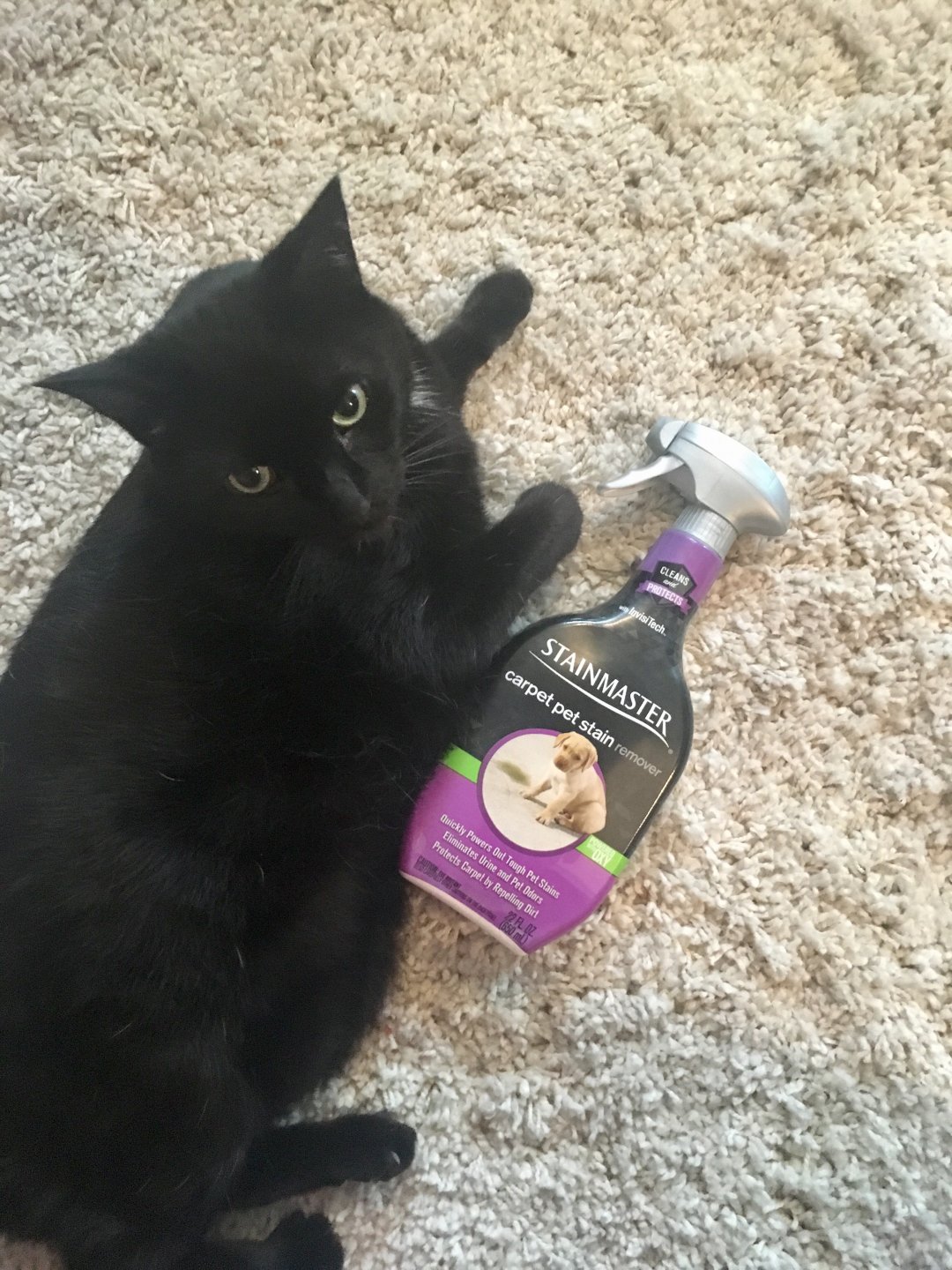 Interested in using STAINMASTER® Carpet Pet Stain Remover this fall season? Hover over the photo to click through to Target.com and buy it!
Avoid Uncomfortable Pet Costumes
As much as we enjoy dressing our pets up, they may not enjoy it themselves. If you notice your pet seems uncomfortable in their costume, make sure to take them out of it immediately. Look for costumes that don't construct movement, hearing, or the ability to breathe, bark, or meow.
Keep Pets Confined And Inside
With the doorbell constantly ringing and Trick-Or-Treat commotion from kids, it can be very scary and unfamiliar for our fur babies. Be sure to keep your pets in a secure room away from the front door. Some animals are known to jolt out the door if they become anxious.
Wear Your ID
If your pet does happen to escape, you may have a hard time finding them on such a hectic night. Making sure your dog is wearing the proper tags and updated identification will almost guarantee they'll be found and returned.
Watch The Decorations
Carved Jack-O-Lanterns are a fun and festive sight, but pets can easily knock them over and start a fire. Also be cautious of Halloween plants like pumpkin and decorative corn as they can produce stomach discomfort if consumed by Fluffy or Scruffy.
Hide The Halloween Candy
As good as chocolate may taste, it can be lethal for dogs and cats. Halloween candies containing artificial sweetener can also be very poisonous for them. Store your candy in a safe and out of reach place so your pets don't stand a chance getting into any. We definitely don't want them getting sick on the carpet!
If your pet happens to have an accident on the carpet, the trick is STAINMASTER Carpet Pet Stain Remover. I purchased it at my local Target in the cleaning aisle and it has worked wonders in my home.
It lifts away tough pet stains and eliminates odors, and it doesn't leave a sticky residue like other cleaners that attract dirt. My favorite thing is it's ability to get rid of odors within minutes.
Not only does it clean the stains, but protects your carpet against future stains. It also leaves behind an invisible shield to repel dirt to protect against re-soiling. When Maxwell had an accident on my favorite rug, I was devastated the stain wouldn't come out. However, STAINMASTER came to the rescue and my rug is now free of stains. I recommended it to all my doggy moms, and they LOVE the product as well.
This Halloween, Maxwell and I are staying proactive and clean with STAINMASTER Carpet Pet Stain Remover.