Now that the season is finally over, I've taken the last week to process everything that happened in the finale. With that being said, I have a lot to talk about from this season, from who I was surprised got together, who I ended up loving, and my feelings on the latest bachelor.
Most Surprising Couple: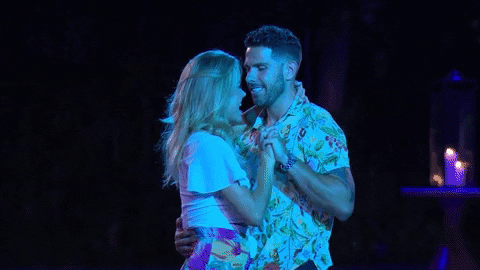 In reality, it does make sense for two of the least liked people from their seasons to get together. However it did surprise me just because I didn't think their personalities would mesh as well as they did. While Krystal was a part of some drama in the beginning, and Chris just fed into it, I was convinced we'd hear lots about them, and we only did once they were one of the only legit couples left. Also, is no one going to talk about when they had their fantasy suite night and there was cheesy b-roll of all the couples in their rooms, AND KRYSTAL WAS TICKLING CHRIS WITH A FEATHER WHILE HE WAS BLINDFOLDED. I really think this was overlooked, but maybe it was for the "right reasons".
Most Lovable Cast Mate: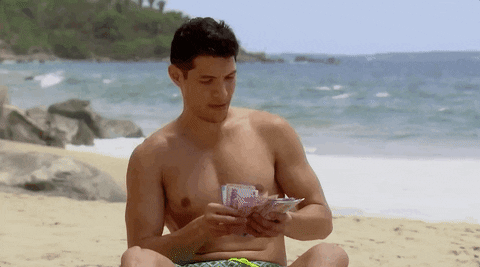 I think I could write a thesis paper on why John Graham was the most entertaining cast mate on this season of BIP. I love when someone from a previous part of the franchise comes to paradise and stands out so much better in this atmosphere. I too, thrive near the ocean and alcohol. But John was charismatic from the moment he set foot on the island. He also didn't take anything too serious *cough cough Annalise cough cough* which honestly is the only way paradise should be taken. His personality reminded me a lot of Tanner when he came to paradise so I was hoping for a Janner love story for John, but sadly it did not happen. He's also wicked humble (he helped invent VENMO PEOPLE) and his dad jokes were on POINT. Rumor has it, John and Chelsea are good friends, and honestly I could see the two of them happily living in Maine with her son while John humbly buys them a castle to live in.
Least Lovable Cast Mate:
Instead of being a mature human being, and accepting that it wouldn't work out with Kendall, Leo decides to have a full on meltdown on national television (which is why we all watch, let's be real here). Remember how all of this started? Leo didn't think he had to tell Kendall he kissed Chelsea, so she heard it from someone else. He quickly tried to turn it around on her, accusing her of tricking him, and just a lot of other nonsense. Then, he wants to go after America's Sweetheart Grocery Store Joe? Leo was practically asking to get chewed alive from the get go. Nobody messes with Grocery Store Joe and gets away with it. I think it's safe to say Leo is not anyones favorite Bachelor alum.
Favorite Scene: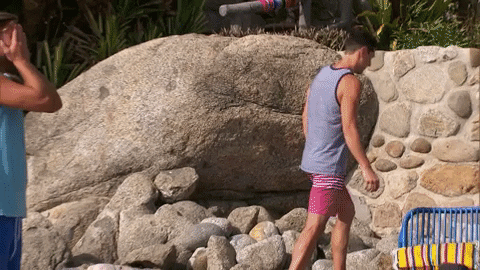 It only makes sense if my favorite cast mate was John, for my favorite scene to have John as well. In order for a scene to be my favorite it must be memorable. Last year, it was when Alexis cried when they dropped the pizza on the ground and Derek ate it. I think I rewatched that scene at least 20 times. This year it has to be when Jordan was giving a rundown on what's happening on the island (after Colton and Tia break up) and John has just awoken from his peacefully deep nap. He comes down and gives Jordan a hug, and on his way back up he asks where Colton and Tia are because he hadn't seen them in awhile. Jordan obviously thought he was joking, only to realize our favorite John wasn't aware of what happened because he was asleep. HOW PRECIOUS.
Who Surprised Me: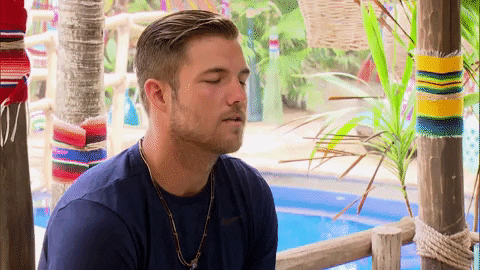 Watching last weeks reunion show was difficult after my handy dandy Reality Steve broke the news on Jenna. The biggest surprise to me this season was how much I love Jordan now. I wasn't crazy about him on Becca's season, in fact I found him to be arrogant and rude. BIP brought out a whole new side to Jordan, and I for one am here for it. His one liners; classic. His outfits; iconic. His love for Jenna; PRICELESS. This poor guy really put himself out there only for Jenna to crush him after he thought he had it all. When he left paradise he was a man with nice hair, a great personality, and a fiancé. At least he still has two of three right? #TEAMJORDAN
If I could get rid of anything from this season: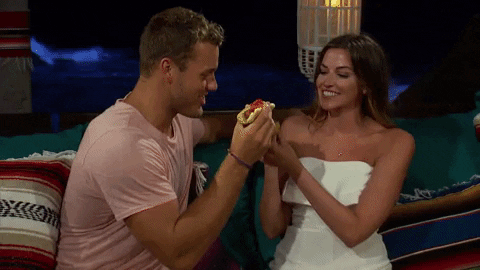 I'm sorry, but I started involuntarily rolling my eyes anytime one of them was on my screen. Bachelor producers milked this story line for all its worth, which I give them credit for but IT WAS ENOUGH. The entire first half of paradise was the Tia and Colton show, it was like no one else existed on the island. Let's be real, they only went so they could date each other which they could've done outside of paradise to save us the boredom. What's even worse was the fact that we had to watch them finally get together only for Colton to just up and leave! It was so out of left field and has story line for Bachelor written all over it, but hey what do I know? He wasn't ready for one lady in paradise, the obvious choice is to have him be the bachelor and choose from 24 ladies for a whole season. I don't think I have ever been this disappointed by the announcement of the latest bachelor, only because there were such better options (JASON!) and better story lines to run with (HELLO, DID YOU FORGET BEAUTIFUL BALKE AND HIS SWEATY CRYING TOWEL?!).
Honorable Mention: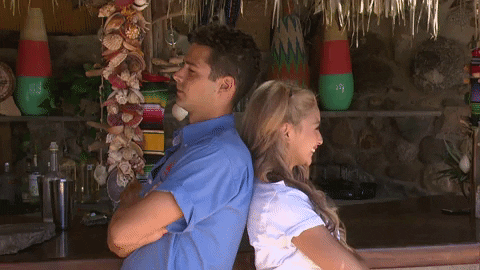 I would be doing us all a disservice if I didn't mention two who should have gotten the airtime that was selfishly given to Tia and Colton. WELLS AND YUKI are the duo none of us knew we needed. You know how they say not all heroes wear capes? The two heroes of paradise held martini shakers and lemons and those are the type of heroes I need in my life tbh.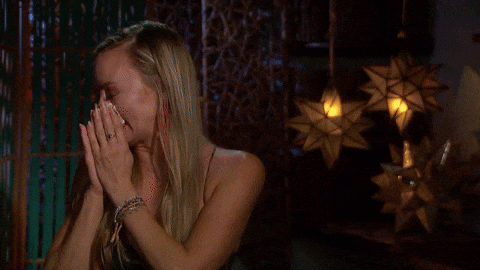 I'm not sure what planet Annalise lives on, but it's a positive and clingy one that's for sure. I'm barely over the fact that she had a meltdown on Arie's season about the bumper cars, and then she comes to paradise. Poor girl, I mean in retrospect Kenny was an amazing guy, but I was never crazy about ex-social media participant Kamil. However I will give it to her, I have never seen someone more confident in a two day old relationship than Annalise. This poor gal still believes in Disney love stories, so I hope she finds her Prince Charming, preferably someone who isn't an ex social media participant (whatever that means).
While the start to the season was a bit rough because it was the Tia and Colton show, they definitely made up for it in the end. The Bachelor franchise is truly a gift that keeps on giving. Grocery Store Joe is competing on Dancin' with the Stars. Blake and Jason continue to post beautiful photos of themselves and their bromances, and little tinker bell Bekah from Arie's season is with child! Thank you ABC, Bachelor, and Chris Harrison for another wonderful season on paradise, maybe we'll see you again for the winter games! (Fingers crossed!)