Katy Mixon…wow, I could go on and on about what a sweet, sweet person she is.  I mean honestly, I can't remember the last time I met someone who was so welcoming and just genuinely kind.  Her entire interview she answered us in the best ways, saying "Oh, honey" as she answered questions.  Katy Mixon stars in American Housewife on ABC.
We watched  an early screening of an upcoming episode and enjoyed quintessential "Second Breakfast," Katie Otto-style, (if you've seen the show you'll understand…if not go watch it now. 😉 ) and interviewed the "American Housewife" herself: Katy Mixon! Check out her interview below!
THE INSPIRATION BEHIND "AMERICAN HOUSEWIFE"
"It comes from the creator, Sarah Dunn. This is her vision. It took off with Kenny Schwartz and Rick Weiner, who are the show runners, and the incredible writing staff. But this was her vision, these are certain situations, not all of them but certain situations, most of them basically come from her life.
What she has experienced, and living in basically a town, kind of in upstate New York a little bit. Ken Schwartz, he's from Westport, Connecticut and everything. So they're really taken from her – her whole thing, basically, and it's been my job to recreate that.
So I couldn't be more opposite from Sarah Dunn. I'm originally from Pensacola, Florida and I'm from the South and I'm 35, I just turned 36. I think Sarah Dunn's 43 or something like that. I play older in the show, and everything. It's been my job to recreate what has been her vision."
THE SIMILARITIES AND DIFFERENCES BETWEEN HERSELF AND HER CHARACTER
"I rock n' roll in a different way. I always have. I've always been quite fearless. I've never really let anxiety take a toll on me. I march to the beat of my own drum, I get back up on that horse and if I don't get it right, I'm gonna do it again the next day. That's kinda my M.O., that's kinda how I've always rocked n' rolled. Sarah Dunn's quite different from me. Which is a beautiful thing too.
So that's what's been really interesting. When I took on this role right after Mike & Molly, I ended it really last year. And four days later I walked into this American Housewife room. So I think what was wild was, I'm not like her. I'm not Katie Otto. I don't get mad at a green juice. If you're going to do yoga, I think that's awesome! You're bettering yourself.
I love people. I'm real spontaneous. I love celebrating people, what makes them happy. I'm just so opposite of what Katie Otto is. So it's just fun to play. I mean, I don't know if I answered your question but that's kinda how I rock & roll. I wanted to do a role that I've never done before. I don't wear hardly any makeup in that show. We cover up head to toe. I wear real baggy clothes. Like it's a whole, it just couldn't be more opposite of what I've done in the past, and I couldn't be more grateful."
CHARACTERISTICS SHE ADMIRES FROM HER CHARACTER, KATY OTTO 
"She's really strong. I am really strong.  I love her so much, that Katie Otto. I think this is the thing – she's quite fearless, but I'm quite fearless too. I'm just doing it in a different way.
She also says what she thinks and I think there is power in being able to say it like it is but you have to do it in the spirit of love, that's where I come from.  Not so much Katie Otto."
THE EFFECT SHE HAS ON OTHER MOTHERS
"It brings tears to my eyes. It's like one of the most special like, I'm so emotional. There's so many emotions, but it brings tears to my eyes, honey. We were grateful and having the time of my life. Thank you so much.
I'm having the time of my life. It's so special to be in a role, be given a role. First of all, be able to do what you love to do. To be given the opportunity to do what you love to do is quite incredible.
It's just the biggest gift in the world. Then to have people be able to receive it, or relate to it, would be like, 'Ah, so that character, like that's totally me.' That's just the best thing in the world. So I am in a new dimension, I've never played a mom with three children. So that's been quite special. To be able to do that on camera and evoke emotion, or evoke, you know, something like that. 
I'm such a big fan of it too. It doesn't – it's such a mom thing. It relates so much to moms. But what was so special was, I knew in the beginning when I signed onto it, I felt like it didn't matter what gender you are and what background you come from. Everybody relates to insecurity. No matter whether you're from Kansas, from Oregon, from Miami, from Westport. Everybody's got their Westport, everybody's got their little, their town, their situation that they're like, 'I don't wanna this today and be in front of these people.' People have that, so that is, that's been kinda my anthem on the show."
"THE CLUB" EPISODE
Before we did our interview with Katy, we got to watch an upcoming episode of American Housewife, "The Club".  It was relatable to basically anyone who has been in a swim suit and doesn't have the metabolism of a nine year old.  In the episode, Katie panics at the idea of appearing in a bathing suit in public.
"The Club" – When Anna-Kat develops a fear of water and stops bathing, her therapist suggests the Ottos get her to go swimming. But can Katie get over own her fear of wearing a bathing suit in public at the Westport Country Club so she can help her kid out? Meanwhile Oliver gives his dad a style makeover after students at the college give Greg a low "jalapeño" score, on "American Housewife," airing TUESDAY, MAY 2 (8:30-9:00 p.m. EDT), on The ABC Television Network.
If you've seen "American Housewife" (Tuesdays at 8:30/7:30c on ABC), then you know what I'm talking about when I say this show is hilarious and heart felt. I love shows that bring families together with a little humor.  Katy Mixon plays that perfectly imperfect wife and mom Katie Otto.  She loves her "second breakfast" time with her pals after dropping off her kids at their various schools.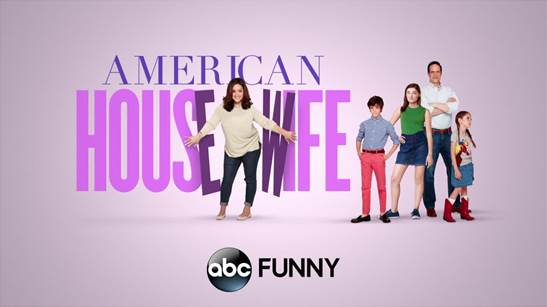 See it Tuesdays at 8:30/7:30c on ABC
Website | Facebook | Twitter | Instagram |#AmericanHousewife |
KATY MIXON ("Katie Otto")
Disclosure:  I was provided with an all-expense trip by Disney to for this interview.  As always all opinions are 100% my own.