Looking for something to do on your upcoming weekend trip to Las Vegas? We've got the scoop on 10 of the best things to do in Vegas, with photos! If you check out any of these amazing places, be sure to send us your thoughts and photos, we'd love to hear from you!
1. Go to the ice bar
Las Vegas can get very hot, especially in the summer. So if you're looking for a fun and unique place to cool down, go check out minus5, an ice bar that will provide you with the coolest drinks and coolest experience on the strip!
Everything is made of ice in this bar, the walls, the seats, the chandeliers and even the glasses. But don't worry if you're not a fan of the cold, because they will even provide you with gloves and a warm parka or a faux fur coat.
2. Enjoy happy hour on a Ferris wheel
The High Roller is a 550 feet tall Ferris Wheel that allows you to take a 30 minute spin to see all of Las Vegas. The best part about it is some of the air-conditioned compartments have a full bar, so you can have happy hour in your cabin while looking over the beauty of the strip.
Check out these outfits perfect for your happy hour looking over Las Vegas!
3. Want to get some money and maybe see a few celebrities?
Well if that's you, then stop by the Gold & Silver Pawn Shop, or also known as the Pawn Stars shop. In the store you can see some rare and historic items as well as possibly seeing "the guys" from the hit History and A&E show, Pawn Stars. Although the guys aren't there every day, their website does list where you could potentially see them else where.
4. Jump off the top of the Stratosphere
Want to get a great view of the strip and the mountains surrounding it? Jumping 829 feet off the Stratosphere is a great way to see the spectacular view and experience an adrenaline rush like no other.
What's even better is that you can video tape yourself jumping to prove to your family and friends that you did something crazy like jumping off the Stratosphere! There are also several rides at the Stratosphere if you'd feel more comfortable just hanging over the edge of the building instead of going down it.
5. Swim with the sharks
Inside the Golden Nugget you can find a long slide that will take you right through shark infested waters. But don't worry, you are in a completely see through tube slide that allows you to see the beastly creatures swimming just feet from you.
In this $30 million award winning pool it features a three story complex and 17 private cabanas. Want to get even more of an experience? You can also get a behind-the-scenes tour of how everything works in the 200,000 gallon Tank!
6. Take pictures by old Vegas neon signs
Vegas is continually building and renovating, so what happens to those cool neon signs? Well they go to a place called the Neon Museum Boneyard which features more than 200 signs! You can schedule a tour or photo shoot time for wedding parties, senior portraits, or just-for-fun photos! Be sure to check out this beautiful for your perfect, Instagram worthy photograph.
7. Take a helicopter tour
Want to get a breath taking view of the strip at night, or see the desert from the bird's eye? Sundance Helicopters and Maverick Helicopters are two great companies that have a selection of tours for reasonable prices!
8. Take pictures by colorful rocks in the desert… for FREE!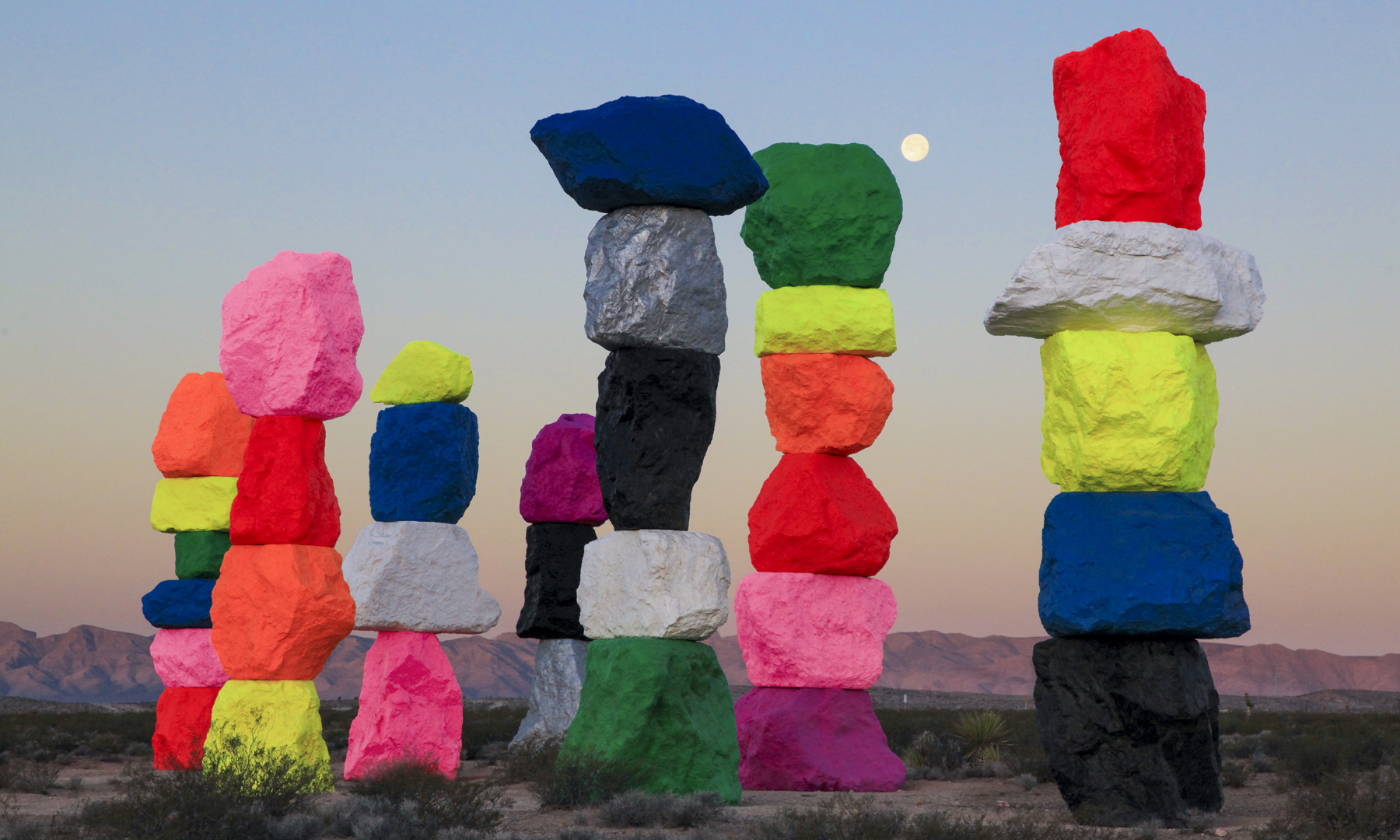 Located in the middle of the desert, Seven Magic Mountains is a great place to take beautiful and fun pictures for your Insta and it's free! So, take a nice hike with family or friends and explore these beauties along with a beautiful Nevada Sunset.
9. Get spectacular 180-views of the strip at night!
In the Skyfall Lounge at the Delano you can experience amazing views of the strip while drinking your favorite cocktail. And if that isn't already great enough, there is no cover charge and reservations are not required!
10. Zipline down Fremont Street!
Fly through the air above the classic Fremont Street with Slotzilla! With two options of flying, you can either zipline to the other end 7 stories up or you can zoomline 11 stories above the street! Just don't look down, there's hundreds of people walking around below you!
---
So make sure you check out these great places, perfect for a variety of people. Whether you're an adrenaline junkie or you just enjoy a peaceful hike at sunset (or sunrise), this list is sure to please everyone.
Las Vegas is great for a trip with friends or family. This is only a list of ten out of the thousands of fun things in Las Vegas for anyone and everyone.
Still looking for a place to stay on your weekend getaway, check out the 7 Best Hotels in Las Vegas & don't forget to grab a bit to eat at one of the 10 of the Best Places to Eat in Vegas!